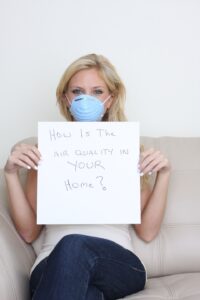 There are two types of homeowners we encounter. The first is diligent, has done all their homework, and tells us exactly what they need when it comes to indoor air quality products. The second scoffs at the "idea" of indoor air quality. While we understand the people who just open a window and think they're done, we'd like to make the case for an even better set of solutions.
Homes are becoming more and more airtight these days—which is great when it comes to heating and air conditioning. But at this point, just opening a window for fresh, clean air isn't enough. Our air purifiers in Harrison Township, MI are designed to eliminate any contaminants and harmful organisms in your air, without the need to open any windows or doors at all!
So, let us at least try to convince you that your indoor air is important with some information straight from the HVAC specialists!
Curb Sickness
Microorganisms in your air might not sound like that bad of a problem. Of course, most of that scientific mumbo-jumbo doesn't sound very bad to the average person. But what this means is that you're statistically more likely to get sick with the air you have now, compared to the indoor air you'd have when you invest in an air purifier.
Microorganisms can include viruses and bacteria, which are systematically eliminated and removed from your air when you have a UV air purifier. I think that terminology is clear enough to convey the big picture. If you want to stay healthy, this is one of the best ways!
Stay Comfortable
Being sick isn't just bad for your health, it also just sucks. Sniffles, coughs, sneezes, nausea, and the anxiety of being stuffed inside or unable to move around are all such uncomfortable feelings. When you invest in an air purifier, you're lowering the likelihood that you or your family members get sick, which means everyone will be feeling a lot more comfortable each year.
This goes doubly for homeowners with sensitive respiratory systems or allergies that could be kicked into gear by contaminants.
Go Odorless
Most odors in our homes are actually from our noses inhaling the nasty particles that are associated with them. While this is an awesome factoid, it's also a signal that your air might be very dirty if you're getting bad odors on a frequent basis. An air purifier is actually a tested method for reducing odors since it kills the organisms that often cause these smells!
Reduce Mold
Mold is awful. It's bad for your health, it's bad for allergies, it's bad for our homes, it's bad for furniture, it's bad for… well, you get the picture.
Luckily, air purifiers are a wonderful way to eliminate mold spores and stop the spread of mold in its tracks. If you've been smelling mold or encountering it throughout your home or in your air ducts, we suggest you invest in an air purifier to have this problem taken care of.
Call Charter Home Comfort today for comprehensive indoor air quality service.