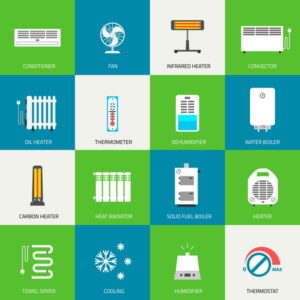 Let's be frank—your heater just isn't performing the way you want it to. You're not sure if you should just opt for repair work or spring for replacement. You're in limbo between the two services and we understand. We're here to help you assess what you have going on, choose between these two services, and find the right professionals to assist you.
We specialize in heating installation in Warren, MI. We're professionals that care about your home's heating service. If you need a new heater, we're going to make the process as easy and as affordable for you.
You Need a New Heater
If you've noticed any of these problems, then it's time for you to schedule an appointment with us:
You Need Repairs Often
Do you repair your home's heater often? "Often" could be classified as more than once every few years. This is the only time this should happen. If you notice that you're repairing your home's heater way more often than you should, then it means that it's time to consider a replacement. You're wasting time, energy, and money trying to tough it out with a bad system.
Your Heating Bills Are Out of Control
Are your home's heating bills starting to get out of control? You might notice that you're using your home's heater the way that you always have, but your heating bills are still through the roof. This isn't something that you should deal with. You're not paying for better heating; you're paying for inefficiency. Your heating bills should always be reasonable.
You're Never Warm Enough
Let's just face facts here. You're rarely as warm as you need to be. In fact, you're fighting tooth and nail to get warm in your home. This isn't something that you should have to do. It should be easy to get warm in your home. If it isn't, then it might be time for you to upgrade your system.
Your IAQ Is in Bad Shape
The longer the heating season marches on, the more you're starting to realize that your indoor air quality is decreasing in quality. Your heater and your home's indoor air quality go together. If one of these aspects is suffering, then the other part is going to suffer too. If you've noticed that you're coughing more often than you have before, snoring, wheezing, or even noticing that your home is super dusty, then you need to schedule an appointment with us. Bad IAQ is going to hurt your home comfort.
Your Heater Is Loud
Your heater is loud, and it makes odd noises. You might notice a few sounds in particular when it comes to a loud heater. Listen out for sounds like scraping, banging, rattling, or even click from your home's heater. A loud heater can really be a problem that's brewing in your home. A loud heater is a problem and we're here to help you find a new heater that will make your home quiet and comfortable.
Contact Charter Home Comfort for your home's heating issues. We're here to help.