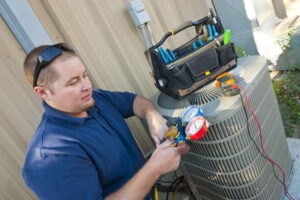 AC maintenance is different from an AC repair appointment because it is designed to be preventative. Ideally, you want to get your air conditioner looked over at least once per year to stay ahead of any potential problems. But what is it exactly that happens during AC maintenance?
That's a question we get a lot from potential customers looking for air conditioning maintenance in Birmingham, MI. each air conditioner and home's needs are a little different. But there are some general steps that we take to get started in helping to maintain your air conditioner. You can keep reading to learn more about AC maintenance appointments so you know what to expect when you schedule yours.
Indoor Unit
We start by doing a thorough inspection of your indoor unit. First, we will look at things like your air filter, and the general cleanliness of your components. We may make a recommendation for a different air filter, or changing your air filter out more frequently. If dust and dirt have gotten inside of your air conditioner, we will wipe down the surfaces and clean everything out. 
After that, we make sure all of the internal parts are tight and working as they should. It's completely normal for bolts and screws to loosen over time, or for belts to wear out and stretch. If we notice anything that needs to be replaced, we will bring it to your attention and talk to you about your options.
Outdoor Unit
Next, we will go to your outdoor unit and check it. We want to make sure that the foundation it sits on is still level, and that it isn't sinking into the ground. If we notice any problems, we will offer solutions and get a plan in place for fixing them.
We will also use a water hose with gentle pressure to clean out the outdoor coils. Since your unit sits outside, it is always exposed to the elements, dirt, and debris. Keeping these outdoor coils clean is a great way to ensure that your AC unit can work efficiently.
Thermostat
You may not realize it, but your thermostat has a major impact on how well your air conditioner can work. We will make sure your thermostat is calibrated correctly and has adequate battery power. If your thermostat is experiencing problems, it may not be able to communicate with your air conditioner as it needs to.
We may also test some of the temperature settings to make sure that your air conditioner and thermostat are synced up correctly for adequate heating and cooling. For example, we may turn your thermostat down a few degrees and then use an indoor air thermometer to make sure that your air conditioner is able to cool your home to that setting.
Contact Charter Home Comfort today to schedule an appointment with our professionals. Old fashioned values with tech savvy results!