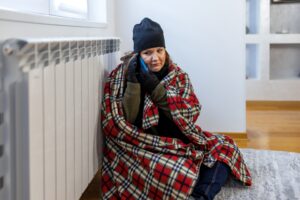 Even though your furnace can have a long life, it will eventually need to be replaced. Is now the time to do that? Or if your furnace had a particularly hard time keeping your home warm last winter, it may be time to invest in a new unit ahead of the next winter season.
If you are interested in furnace repair in Troy, MI, give our team a call. You can schedule an in-home assessment to take a look at your current heater and find out what's wrong. Keep reading to learn more about whether it's time to invest in a furnace replacement.
Check the Filter
If you didn't replace your last air filter with a clean one, now is the time to do so. You want to give your furnace a fresh start for winter, and this is one of the best ways to do it. When the air filter gets too full of dust and dirt, it can block airflow into the heater and cause problems. Remember to change the air filter regularly. 
Check Vents and Pipes
Next, check the air vents throughout your home as well as the exhaust pipes. You need to take the vent covers off and clean the backs to get rid of dust and dirt buildup. Even though you have an air filter, some dirt inevitably gets into the system. Cleaning these vents is one way to get a fresh start and ensure that dust doesn't blow in with clean air and recirculate in your home. 
It's also important to check these vents for blockages. It's easy to rearrange furniture and partially block a vent without realizing it. All of the vents in your home should be completely free and clear to allow airflow. Blocking a vent can cause problems heating your home and it also puts strain on your heater.
Check for debris and blockages around the exhaust vents that lead outside of your home. If they're particularly dirty, you can clean them so exhaust doesn't form a clog in the line. Stop by your local hardware store to get exhaust brushes that make the job easier.
Schedule Professional Maintenance
Now schedule professional maintenance with our team. As a homeowner, there is only so much you can do for your furnace. It's up to us to do the rest. We will inspect the inside of your furnace to make sure that all of the electrical connections are secure, gas lines don't have leaks, and components showing wear get replaced. 
This is a great way to stay ahead of repairs for the coming winter. After all, if you skip out on maintenance now and have to schedule a service appointment during winter, you may have to wait. Our team has a peak season when we receive many calls for heating service, and you may be left scheduling one further out than you could now in the off-season.
Check Your Alarms
Your final step is to check your fire alarms and carbon monoxide detectors. If you have gas lines in your house, check your carbon monoxide detectors to make sure that they're operating and have plenty of battery life. 
Contact Charter Home Comfort today to schedule an appointment with our professionals for furnace service. Old fashioned values with tech savvy results!